Here's the deal. I'm graduating from Texas A&M University on Friday the 13th (spooky!) December 2019. After that, My family is on winter break until my Mom resumes teaching on January 6th. My first day of work won't be until the 13th of April, 2020 in Seattle. That gives me 98 days to move to Seattle, but really that means two and a half months ofnothing.
I've been asked what I plan on doing with this time so I've created this blog to explain the plan, what's driving me, and to eventually document the whole adventure.
The Origin Story
Back in high school, a few of my friends and I were joking around about a trip across the United States via interstate 80 from San Francisco to New York during summer break. Coast to coast as a road trip. It was just a fun idea that didn't go anywhere but it's been bouncing around in my head ever since.
A few years ago, my mom's parents were moving and downsizing to an apartment. Among their book collection I happened to come across 2 books covering the entire known history of their family. The books contain a plethora of genealogical information about practically every American with their last name—including a few famous people!
Research Montage
After reading through my ancestral line, I was hooked on genealogy. All the places they lived, their children and their spouses all little nuggets that left me hungry for more. I want to know as much as I can about these people, of whom I now barely know more than their names.
Of course, this book only contained a fraction of my total ancestors. Since then I've looked into my Dad's side of the family. I've also come to terms with the reality that records were not kept for the heritage of female lines of my family -- the biggest problem is that I don't even have maiden names for many so the hunt for more can't even begin. At the very least, I have good records of more recent branches of the tree, so all is not lost for the Mothers in my ancestry.
With all of this information starting to pile up I got organized. Besides names and dates of birth I realized that almost all records also included a birth location, a marriage location, and/or a death location. Just for kicks I started plotting these locations out on maps of America and Europe.
The maps revealed an interesting trend: over the great arc of history my family has moved west. Roots starting in Denmark, Poland, and England all converge in England and make the leap across to Massachusetts and Vermont, then to the mid-west and south with Nebraska, Arkansas, and Texas, and finally culminating in California.
The Plan
Here's the thing: almost everywhere on that map is within a stones throw of the I-80 corridor.
My high school I-80 trip concept is finally happening.
Starting in California, I'll be tracing my family's history back through the generations as they crossed America.

The above map and the below list are not set in stone, I expect deviation from this plan.
A. (hidden behind C) Sacramento, CA; starting point
B. Fresno, California
C. Sacramento, California
D. Madrid, Nebraska
E. Henderson, Nebraska
F. Freedom, Wisconsin
G. Appleton, Wisconsin
H. Calais, Vermont
I. Falmouth, Massachusetts
When I get to New England and I've run out of road I'm getting on a plane to England and then trains across Europe.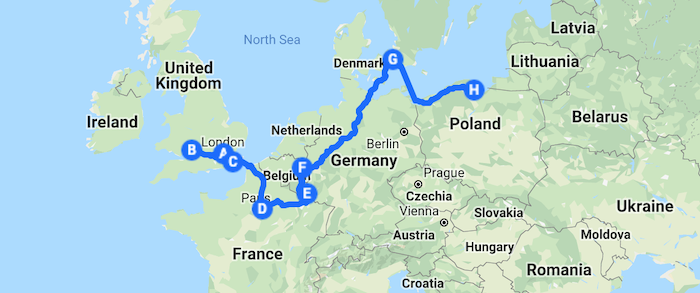 This itinerary is also not set in stone.
A. London, United Kingdom
B. Berkeley Castle, United Kingdom
C. Biddenden, United Kingdom
D. Paris, France
E. Luxembourg
F. Margraten, The Netherlands
G. Copenhagen, Denmark
H. Danzig, Poland
I'll be taking extensive notes as I go about the places my ancestors lived and any documents I can find that reference them. I plan on making some version of that available as blog posts as I go throughout the two and a half months. If you want to follow along I'll be posting updates here, and major posts will be also be linked from my Facebook. You can also follow from RSS if you know what that is.