For the past several days, I have played host to my niece's Flat Stanley. Flat Stanley arrived at my home on Friday, and since then we have spent quite a lot of time getting to know one another.
On Saturday we woke up and turned on the TV. It's football season and there were a lot of exciting games for us to watch. Some of our favorite moments: t.u. lost to TCU, Baylor lost to West Virginia in double overtime, and we got to watch the Texas A&M Aggies run out of time against Alabama.
On Sunday we kicked off the morning by watching the Seahawks play against the Dolphins and then we grilled up some lunch on the roof--I had a burger and Stanley had a hot dog. The roof of my apartment complex has some nice views of downtown Seattle so we took some pictures: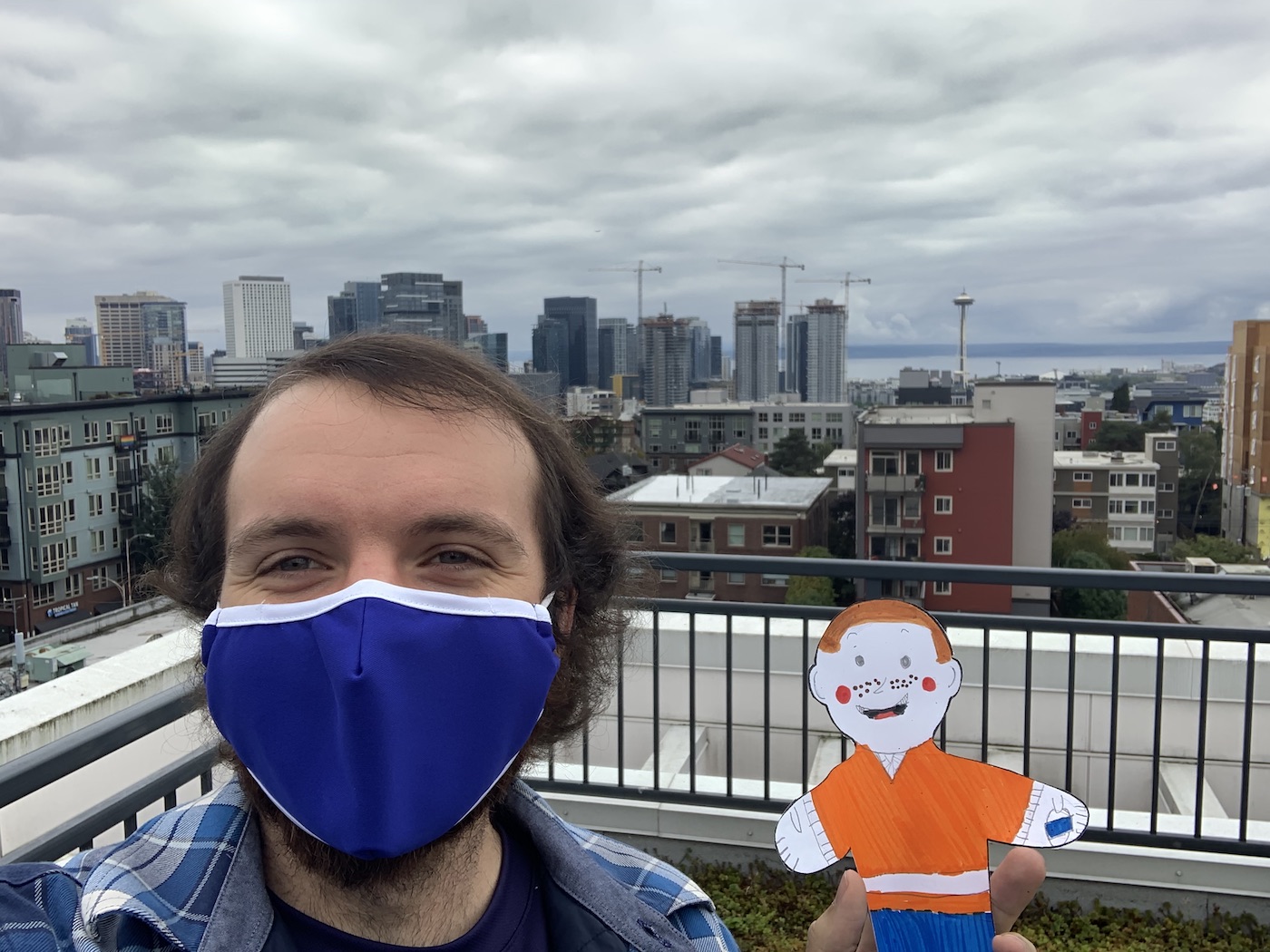 I told Stanley I had planned to run over to REI to pick up some ski gear for the coming season and Stanley offered to join me. It was nice out so we decided to walk, though Stanley got to ride in my jacket pocket so I did most of the leg work.
Before going down to REI we walked through Cal Anderson park. Several months ago some people got together and formed a community in the park. They've set up tents and started a garden in the park and I thought it was an interesting thing to see. I think Stanley was eager to get out of there but we took some pictures anyway: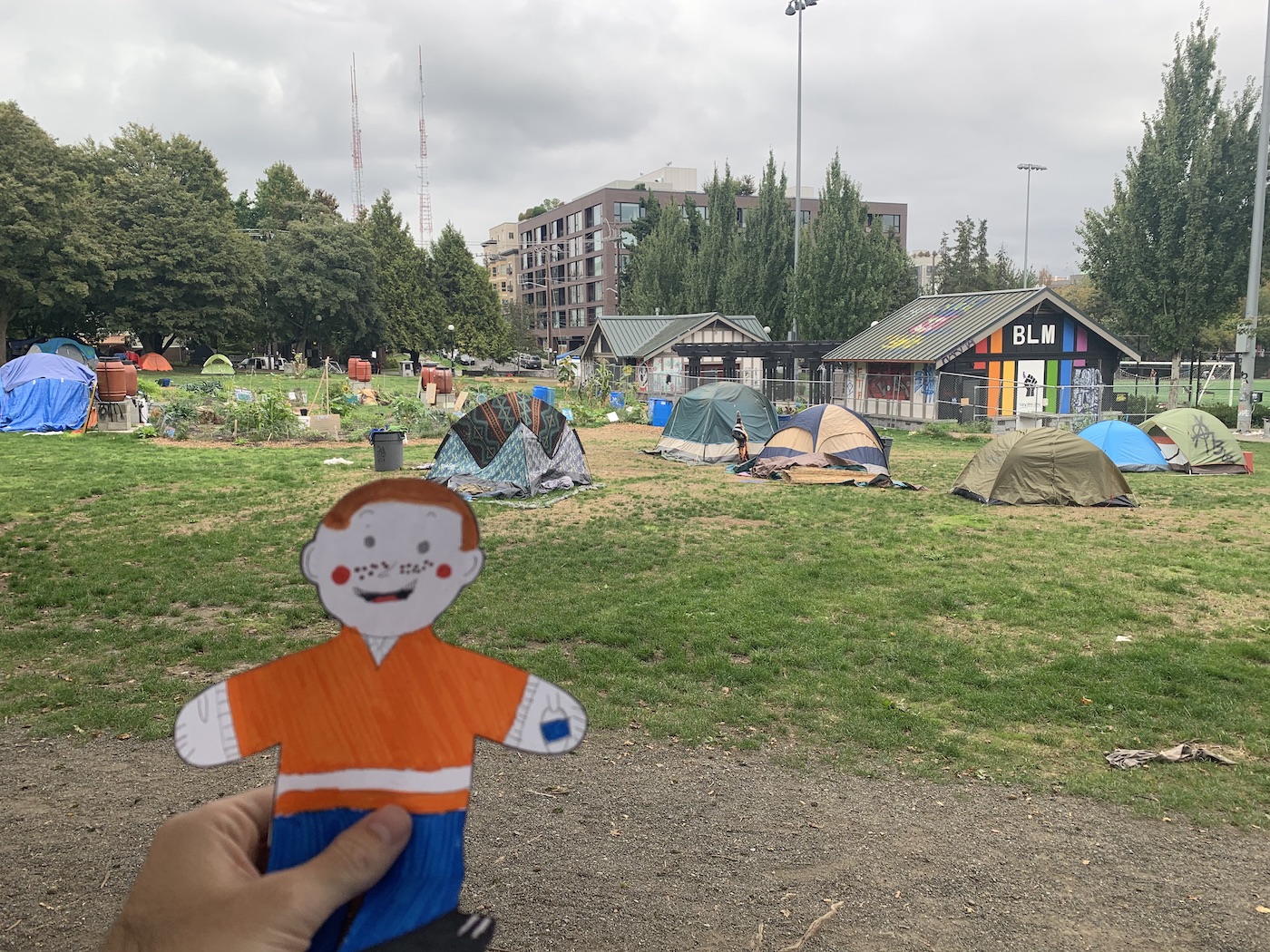 We then began the romp over to REI. It's about a 15 minute walk from the park; down a big hill and across the I-5 freeway. I told Stanley how I've walked down this hill often to get to South Lake Union park where I've had some socially-distant interactions with some friends of mine. Stanley thought it sounded like a nicer park than Cal Anderson so he asked if we could go see it. It's not that far away after all.
Since it was still early in the day (plenty of time to go to REI) and the weather was just perfect I said sure. After a quick walk up Denny Way and then down Fairview Avenue we ended up at the southern shore of Lake Union. A lot of people keep their boats and yachts parked here so we took some time walking along the boats and imagined ourselves taking some of those boats out for a spin.
A sailboat happened to pass us by right as we entered the park and I got a nice picture of Stanley with the sailboat and the lake in the background: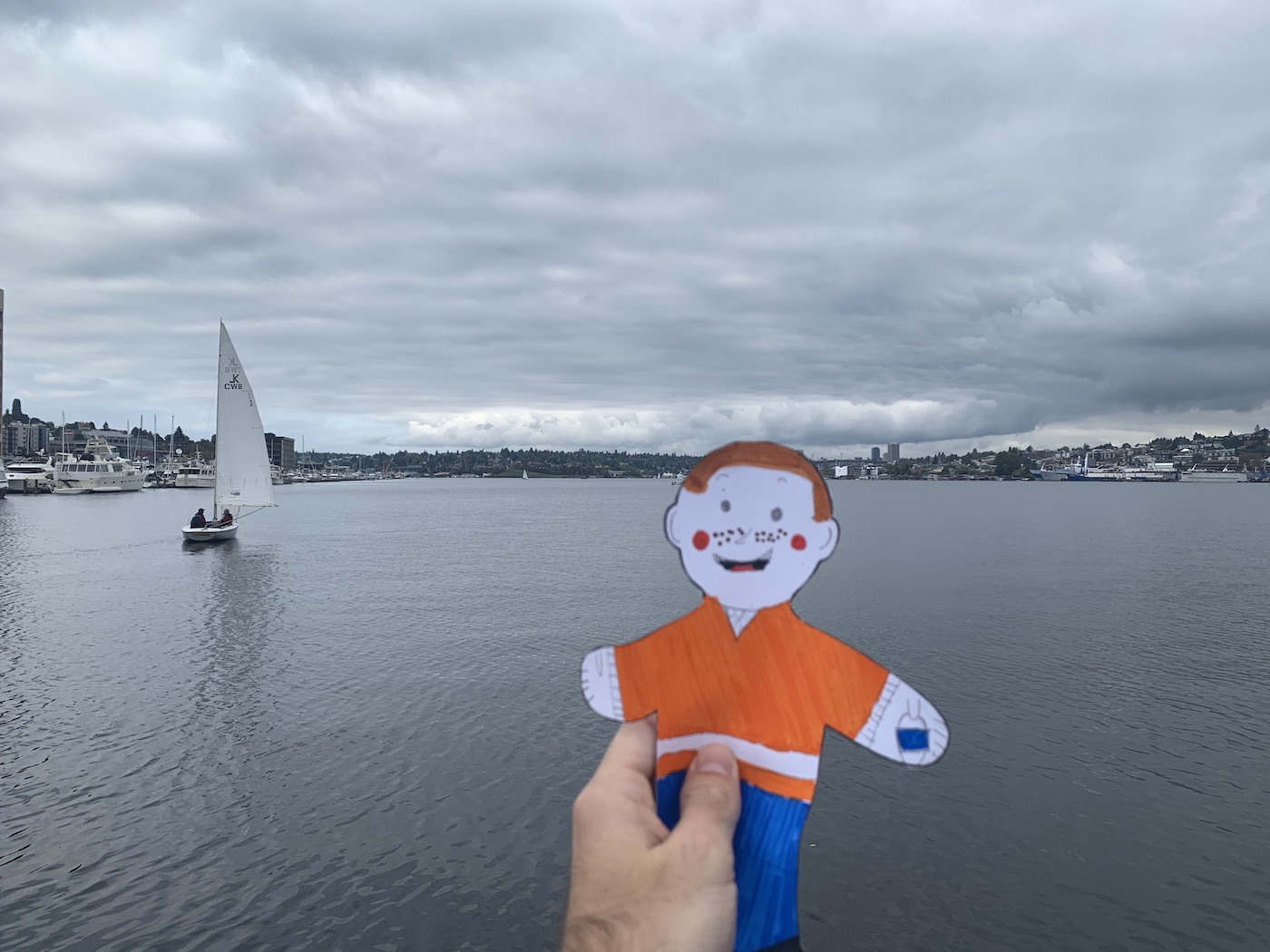 We turned around and Stanley got his first good look at the Space Needle: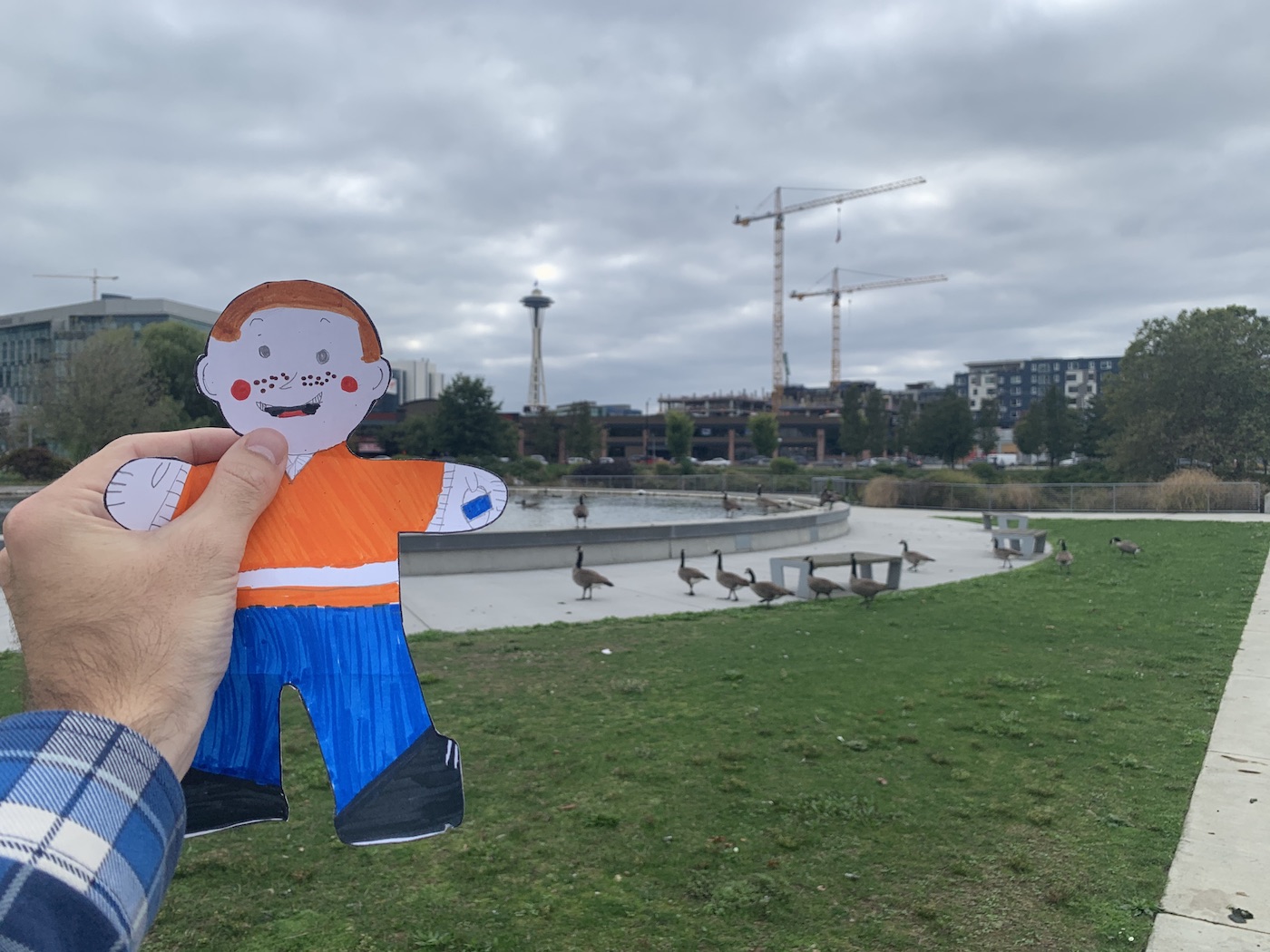 We didn't have long to take pictures before the geese in the park started to take notice of Flat Stanley and he got a little worried one of them might attack and try and eat him. So he tucked himself away in my pocket and I made a brisk exit from that part of the park. With some good luck we managed to be leaving the park just as a flight from Kenmore Air was talking off. As I explained to Stanley, Kenmore operates a fleet of seaplanes that take off from Lake Union and head north to Canada or Alaska.
Stanley was fascinated by the funny looking planes so while he was talking about hoping to travel in one some day I snapped a picture: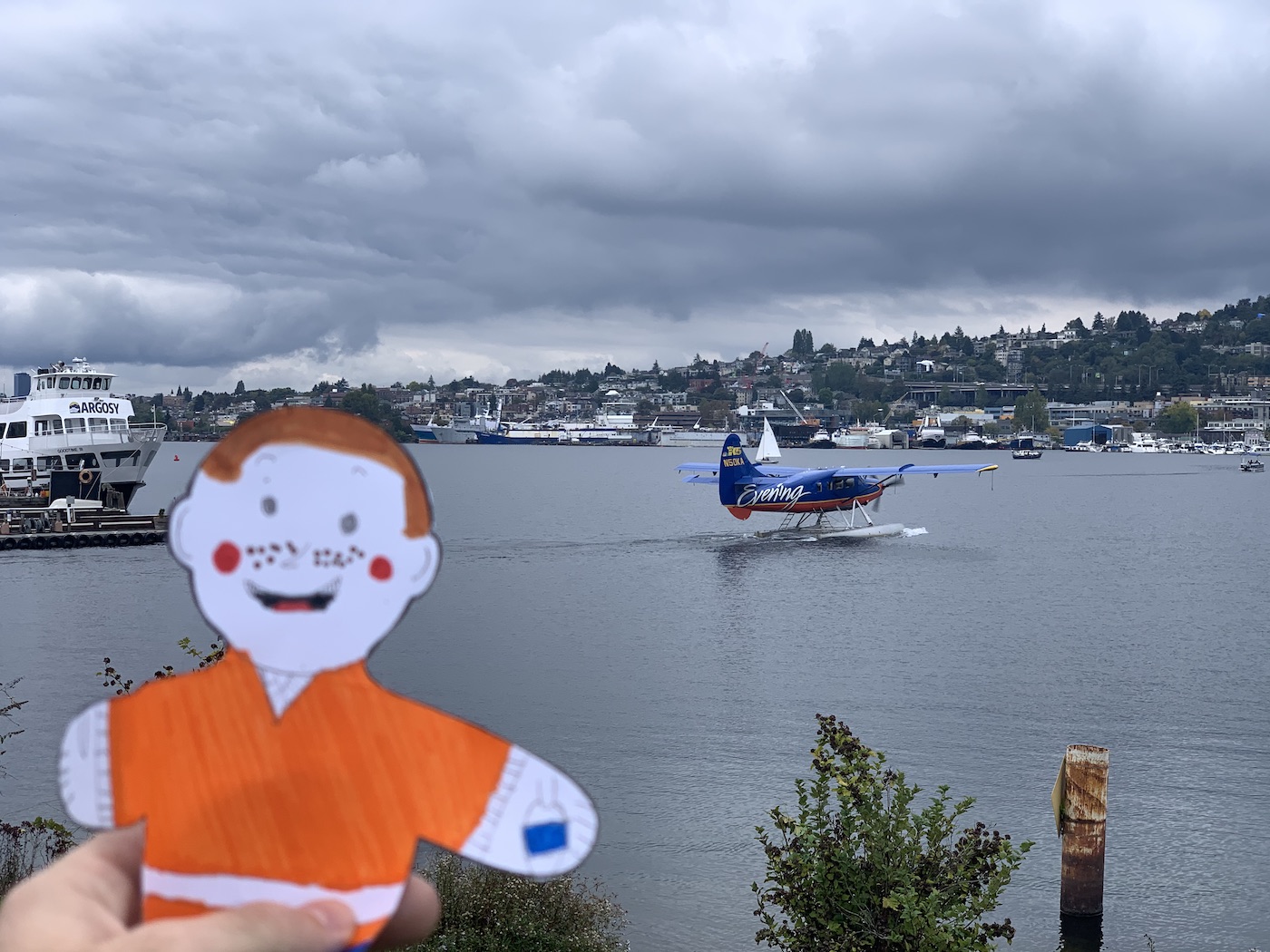 We happened to end up just across the street from the office building where I work (if not for the pandemic) so we walked over there. I had intended to look through the windows to show Stanley where I work, but unfortunately the entire building was sealed up--blinds drawn, doors locked, and lights off. We took a picture even though there wasn't much to see: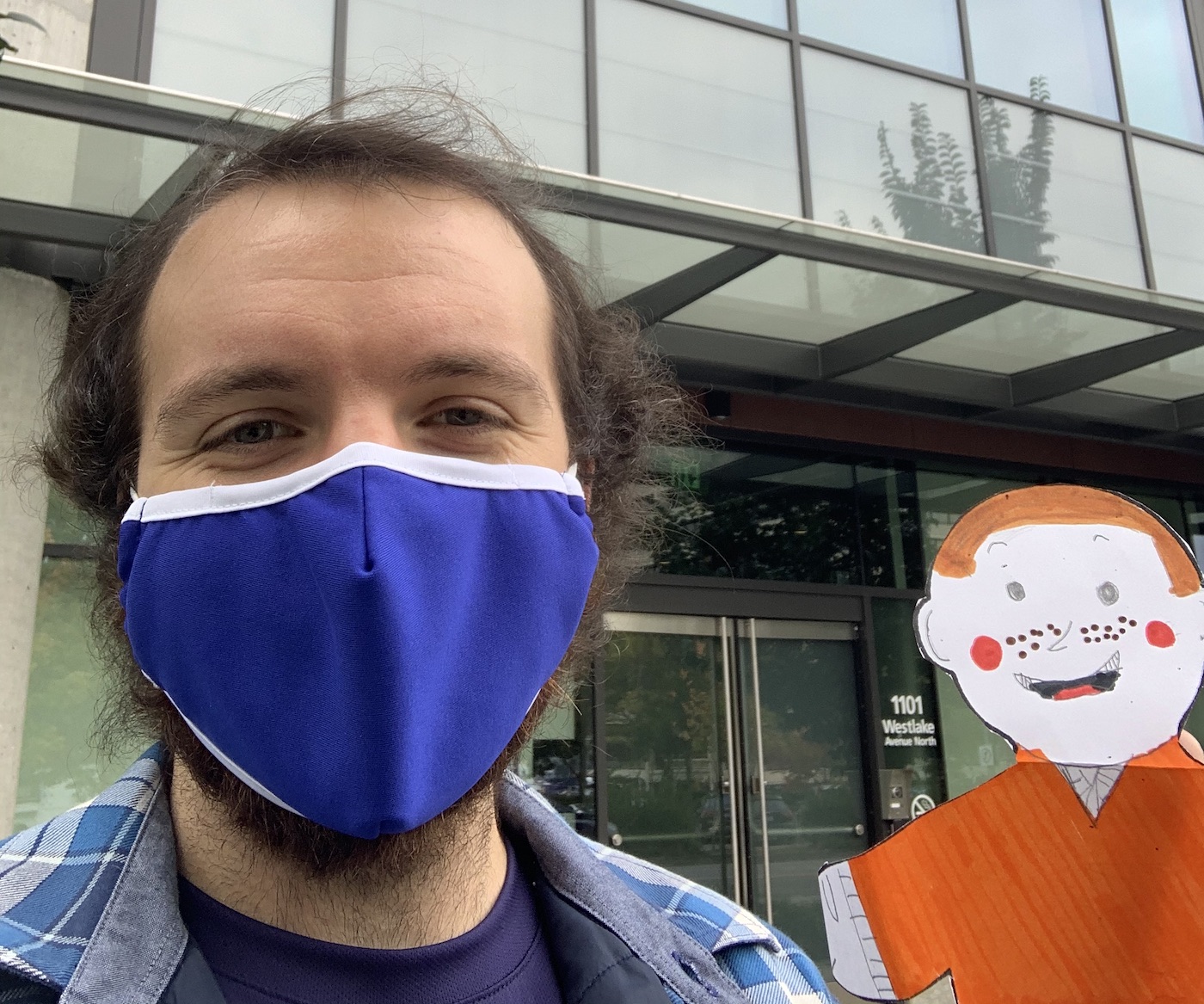 Now I started to look at my clock with a little bit of concern. I told Stanley that we really should get back to REI before they close, and we're now on the opposite side of town but Stanley pleaded with me to let him see the Space Needle up close. I relented and we strolled up towards the Seattle Center. On our way we briefly stopped at the Bill and Melinda Gates Foundation to look through the windows of the Discovery Center. I wish we could have gone inside but sadly they were closed. We took a look through the windows and I explained to Stanley all of the work that the Gates Foundation does to try and make the world a better place.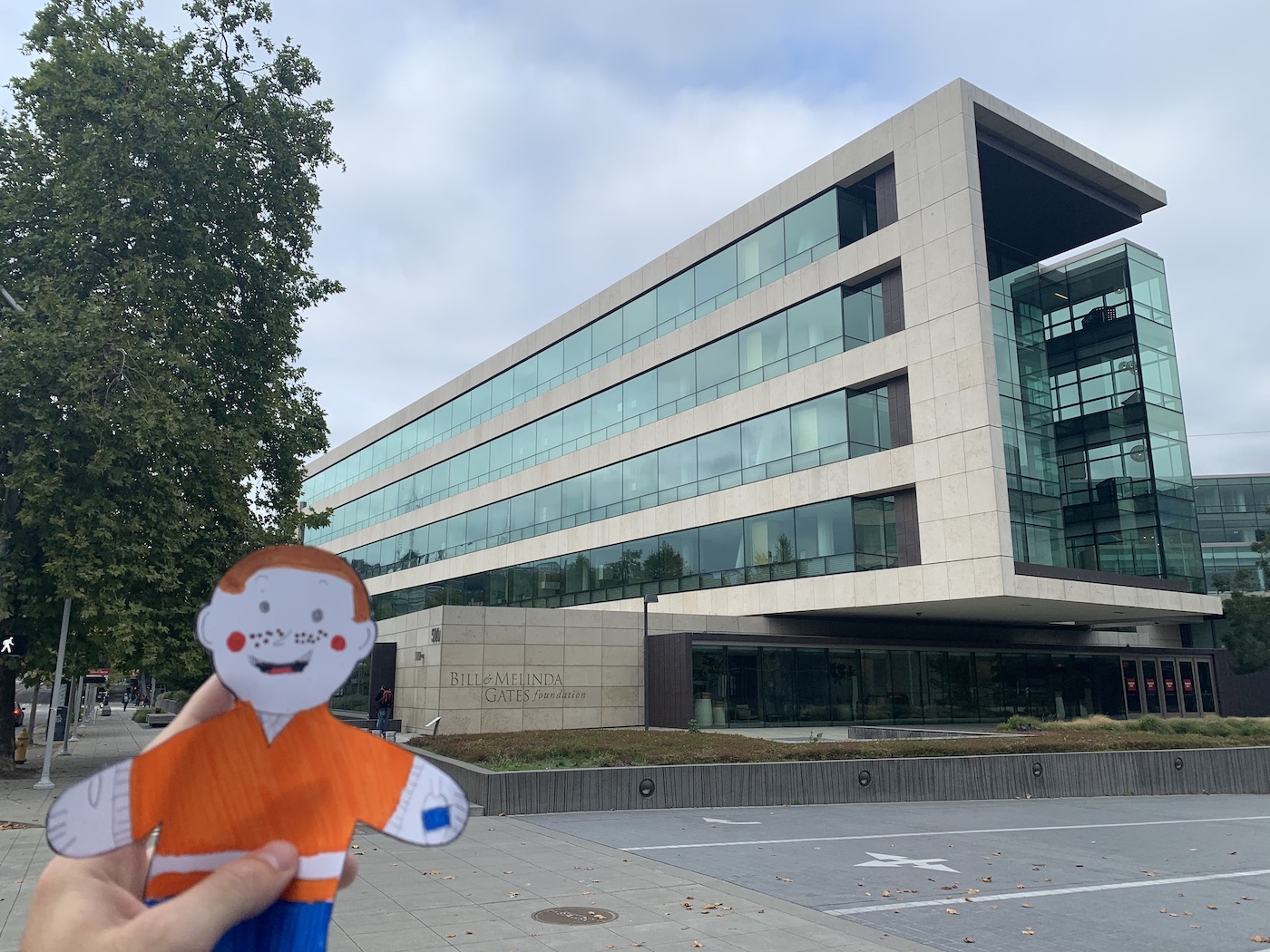 Across the street was the space needle. Now that we were a little closer I got to take a better picture of Stanley and the Space Needle (without any pesky geese around):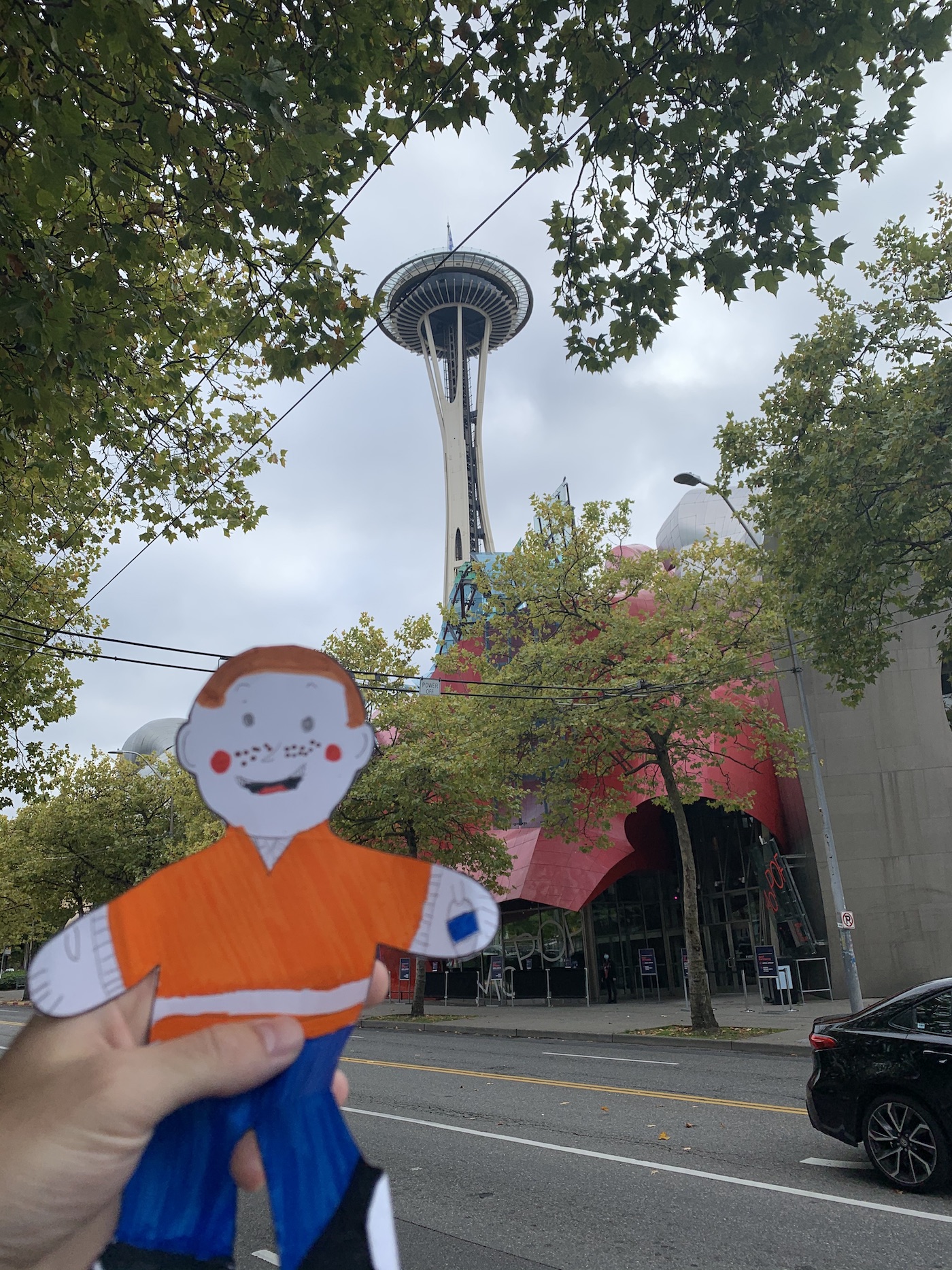 We got right up to the base and Stanley bent his head so far back that it just folded right over. I tried to fold my head back like Stanley was so that we could both see the top of the Space Needle. I couldn't bend my neck that far but we had an nice laugh about it.
Since we were already at the Seattle Center we wandered around the park aread there and also took some pictures at the monorail that runs between the Space Needle and the heart of downtown: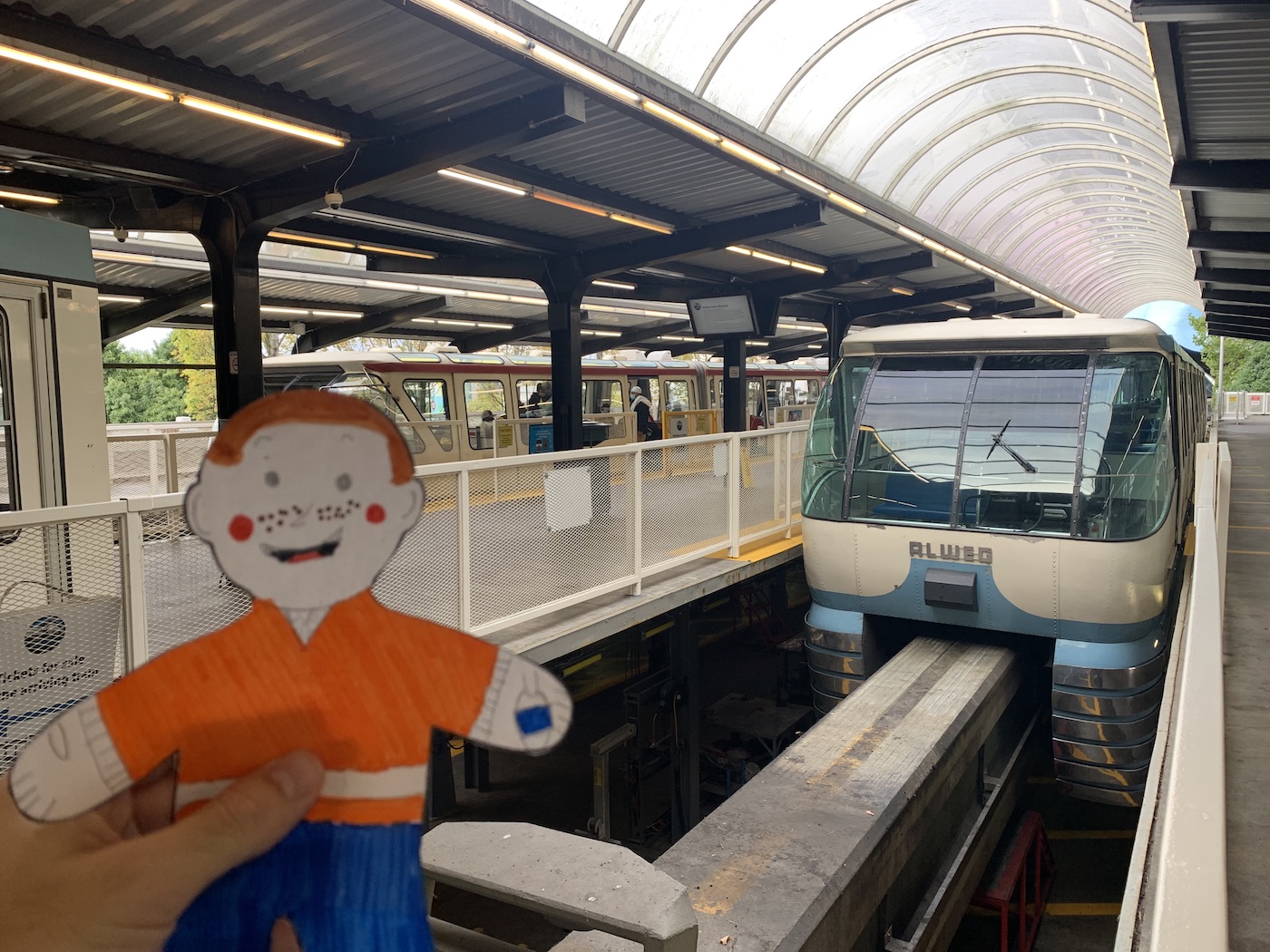 We then started on the long hike back towards REI and home. On the way we made a few other brief stops. Our first was at the Cinerama--an old and famous movie theater in Seattle that was initially closed due to modernizations and renovations but has stayed closed due to the pandemic. We tried to peek in at some of the movie props they have but the whole place has been shuttered.
It was a breezy day in Seattle, and I had become increasingly jealous of Stanley's perfect hair. Mine started to fly all over and his stayed perfect for every picture. I told Stanley I'd only take pictures of just him for the rest of the walk.
One block away from the Cinerama is the headquarters of Amazon. They have a really cool building called the Spheres that we took some pictures at: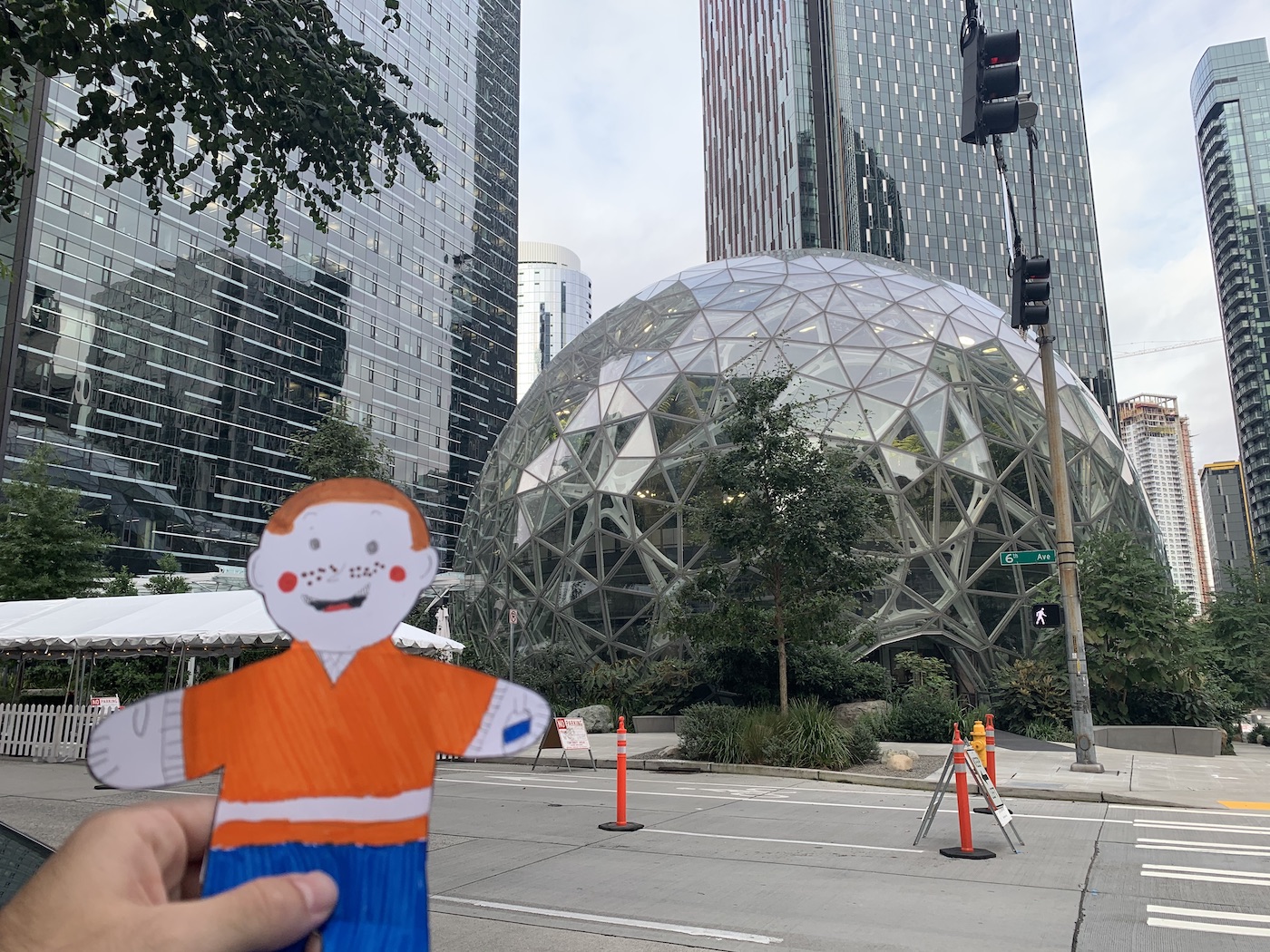 Next door there's an Amazon Go store, which I intended to buy some snacks at but was closed for the weekend. It's a really cool store where they use robots to track what food you buy so there's no need to wait in line for a cashier. You just walk out the front door. I was pretty disappointed that I didn't get to show Stanley how cool it is but we still took a picture from the outside: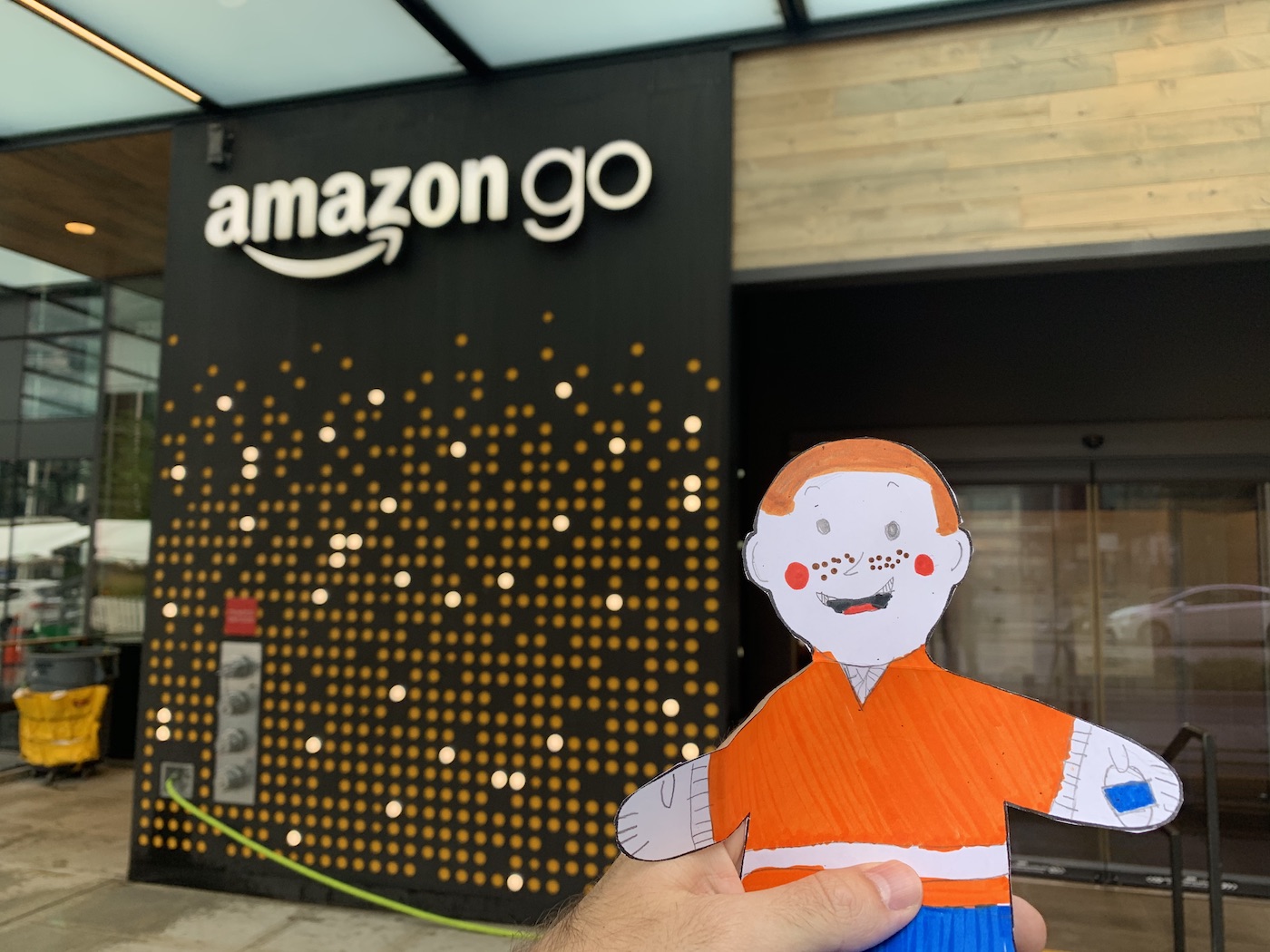 At this point I looked at my watch and realized that REI closed in a few minutes! Stanley folded himself up and I nearly ran over to the REI. Fortunately I still had plenty of time get what I needed, but I would have really liked to give Stanley a tour of the flagship REI location--they even have a rockwall and a cycling course. Unfortunately we didn't get the chance to take a picture.
Unfortunately I've had to work this week so Stanley has busied himself doing some research on where he plans to go next.
Thanks for visiting, Stanley!